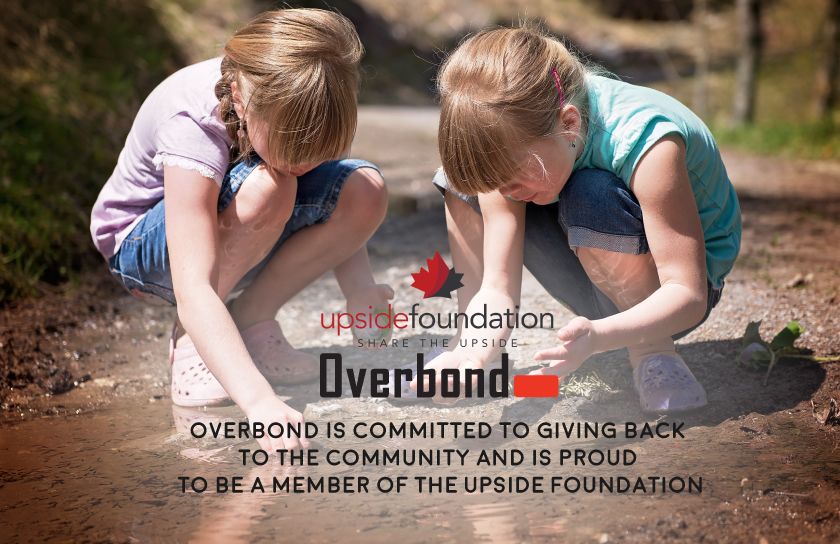 Over 75 Canadian startups have already pledged to donate equity to charity.
TORONTO, ON, April 4, 2017 — Today The Upside Foundation, a national charity that makes it easy for early-stage or high-growth Canadian companies to give back in a meaningful way, announced the launch of their campaign, 150×150: Turn Equity Into Charity. The campaign aims to grow the number of companies who have pledged to give back to 150, as we celebrate Canada's 150th birthday. Canadian startups who make the pledge will donate a small portion of their equity to The Upside Foundation (typically in the form of stock options), which are converted to cash upon a liquidity event and donated to the charity of the company's choosing. The Upside Foundation is also announcing several prominent Canadian startups who have taken the Upside pledge, including Wattpad, the Toronto-based entertainment company for original stories, as the first company to kick-off the 150×150 challenge.
"The Upside Foundation provides an easy solution for both early-stage startups and high-growth companies who want to give back but don't necessarily have the time or money," said Rob Antoniades, Board Chair and Co-founder of The Upside Foundation. "Through this national campaign, we hope to empower 150 Canadian startups to take the pledge to donate a portion of their equity and help build a stronger future for Canada."
The Upside Foundation is partnered with Pledge 1%, a global movement founded by the Salesforce Foundation and others to inspire companies around the world about the benefits of early stage corporate philanthropy. Through Pledge 1%, over 1800 companies have donated one per cent of their equity, people or product to charity. In Canada, over 75 companies have already taken the Upside pledge, including Hubba, which raised Series B in funding in December 2016. New members include Wattpad, Wealthsimple, and Overbond, with additional members to be announced leading up to Canada's 150th birthday.
"At Wattpad, we believe startups aren't just about profits, they're about giving back to communities, at home and abroad. We've already made a remarkable impact on millions of people's lives around the world. Today, we pledge to join the 150×150 campaign to demonstrate our continued commitment to positive social impact," said Allen Lau, Wattpad co-founder and CEO. "Whether you're in the early stages or a well-established start-up nearing exit, it always makes sense to support charities that serve your users and mean something to your team. If you haven't already joined the Upside Foundation, what are you waiting for? Join the 150×150 campaign today!"
Any Canadian startup or private high-growth company can take the Upside pledge by committing stock options or warrants that will be converted to cash at the time of an exit or IPO, and donated to a registered Canadian charity.
"I've always believed in giving back to the community," said Vuk Magdelinic, CEO of Overbond. "I'm proud that we have now found a way to make Overbond's success mean that charities in the community will win alongside us."
To date, there have been two exits from the Upside network, including BlueCat Networks, which sold for $400 million in February 2017; BlueCat CEO, Michael Harris donated the proceeds from a portion of his stock options to the Enbridge® Ride to Conquer Cancer® benefiting the Princess Margaret Cancer Centre. The first company to exit was Understoodit, who was acquired by EventMobi in 2013 and donated their equity proceeds to the East York Learning Experience and Mentoring Junior Kids Organization. The Upside Foundation is led by a coast to coast Board of Directors and Advisory Board of industry leaders and partners with leading incubators, accelerators and investors – creating a supportive community for members to be a part of.
"People work at startups because they want to effect change, and the Upside Foundation enables startup employees to have a meaningful impact on their community," said Mike Katchen, founder and CEO of Wealthsimple. "Our team is proud to join the 150×150 challenge."
How Companies Can Take the Pledge
The Upside Foundation encourages Canadian companies to join those who have already taken the pledge.
Companies will need to fill out the

online pledge form

found on The Upside Foundation's website and a representative will be in touch.

Once the pledge form is received, companies will receive detailed instructions on how to contribute from an ESOP (employee stock ownership plan) or a simple legal form, with flexibility depending on the stage of the company.
About The Upside Foundation
The Upside Foundation is a charitable organization that allows startups to give back by donating equity in their company to Canadian charities. Early stage companies pledge stock options or warrants to The Upside Foundation, convertible into a small portion of equity.
To learn more about The Upside Foundation visit: www.upsidefoundation.ca