The hunt for yield has scoured the Steppes and passed through the Pampas. Now it has scaled the Alps, with over 11 billion euros of orders placed for Austria's first century bond.
---
Source: Bloomberg Markets
The hunt for yield has scoured the Steppes and passed through the Pampas. Now it has scaled the Alps.
Investors placed almost 11 billion euros of orders for Austria's first century bond, which had a yield of 2.1 percent. That's less than the current yield earned on Treasuries coming due in just 10 years.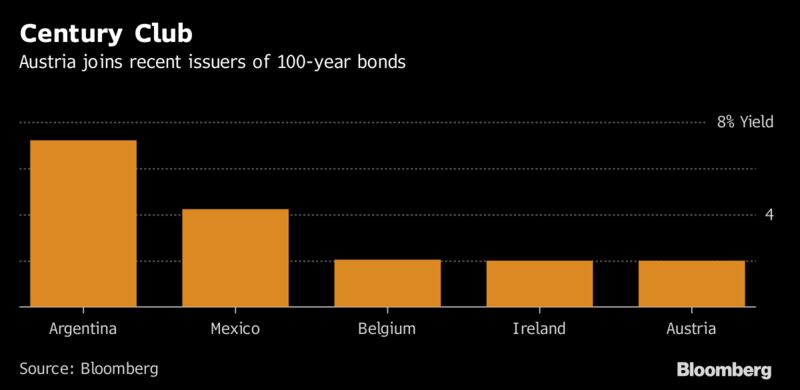 The extraordinary demand reflects investor disquiet over persistent deflationary pressures and tepid forecasts for global economic growth that are curbing the longest-term rates for sovereign debt. The "quite peculiar" bond market reflects expectations of a subdued investor response to when the European Central Bank decides to rein in its super accommodative monetary policy, according to Kim Liu, senior fixed-income strategist at ABN Amro Group NV.
"Why would you invest in such long-dated bonds if you would expect that we are entering a period of higher yields?" Liu said in e-mailed comments. "Most likely, investors expect that while central banks are exiting their loose policy stance, we will still see low yields in the coming years."
Even lower-yielding century bonds from higher-quality issuers can offer fundamental value to investors due to their convexity, a measure of sensitivity to interest rate changes, according to HSBC Bank Plc strategists including Lawrence Dyer.
On Wednesday, its first day of trading, Austria's century bond was performing well. Launched at a spread of 50 basis points wider than the country's existing 30-year bonds, the difference had narrowed to 48 basis points as of 12:18 p.m. London time, according to CBBT pricing.
Depressed Yield
After more than 2 trillion euros ($2.4 trillion) of bond purchases, alongside negative interest rates and free loans to banks, the ECB has helped put the euro-zone economy on track for its fastest economic growth in a decade. Those liquidity injections helped depress bond yields to record lows.
And although market rates have started to rise as ECB policy makers begin debate on when and how they might pare back their stimulus measures, investors are yet to be convinced borrowing costs will climb significantly. The latest survey of fund managers by Bank of America Merrill Lynch showed investors are cutting their expectations for "much higher" bond yields, according to Chief Investment Strategist Michael Hartnett.
The success of emerging-market issuance from the likes of Tajikistan to Iraq can be seen as evidence of a hunt for yield in a world still full of disinflationary pressures. But for some fund managers, this ultra-long security was just too much.
"Many institutional investors have been forced into higher duration assets in order to enhance yield and meet their liabilities, and this recent issuance is symptomatic of that," said Nicholas Wall, portfolio manager at Old Mutual Global Investors. "The market prices in too little growth and inflation for the euro zone, and therefore we didn't want to add such a long-duration bond to our portfolios."