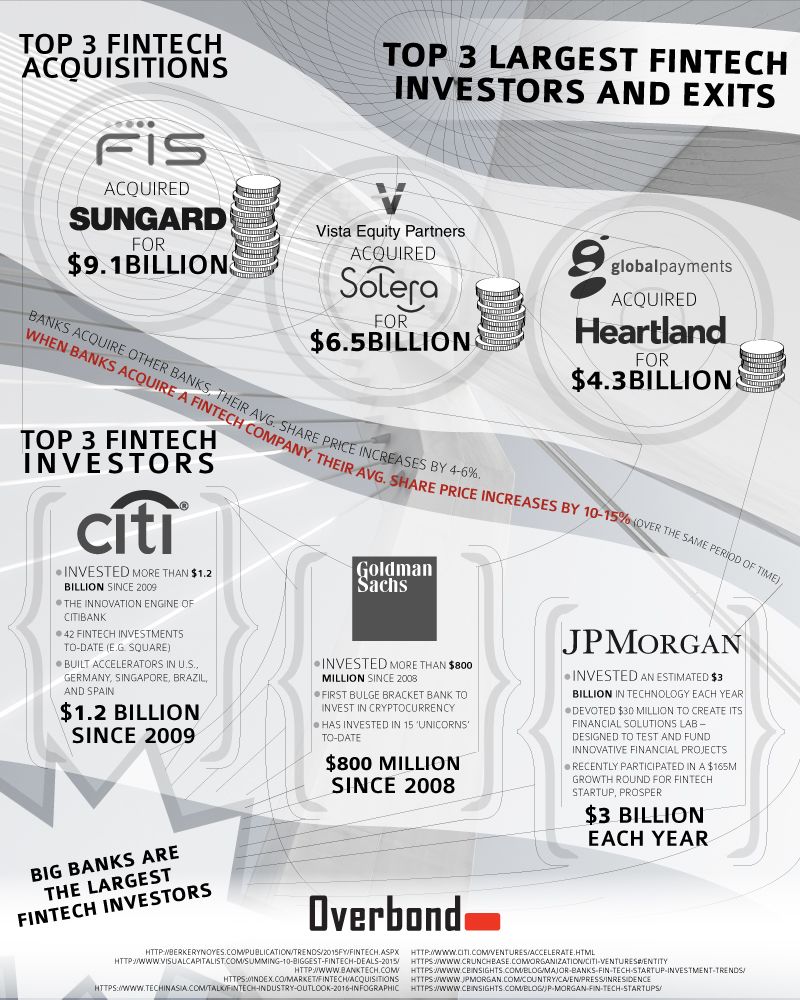 Global investment in Fintech has grown more than 7 fold since 2011 and it is no surprise that the industry is poised to further expand and develop over the next few years. As Fintech startups continue to grow, larger companies are increasingly attracted to the prospect of an acquisition (for example, Spanish bank BBVA acquiring Simple).
A.T. Kearney conducted a study in which it found that when banks acquired other banks, their average share price increased by 4-6%. However, when banks acquired a Fintech company, their average share price increased by 10-15% (over the same period of time). The key driver of increased global Fintech investment activity going forward will be financial institutions seeking opportunities to bolster their bottom lines. In 2015 alone, the total Fintech acquisitions value was $24.6 billion, a higher number than the previous five years put together. Before Fintech startups can become acquisition prospects, they require investment to grow. Therefore, it is only logical to know who the 3 largest Fintech investors are before we tell you what the 3 largest Fintech acquisitions were.
Let's see who are the 3 largest Fintech investors in the world:
1. Citi Ventures
As the innovation engine of Citibank, Citi Ventures was one of the first banks to launch an accelerator in Tel Aviv in 2013. Today, they have opened accelerators in the U.S., Germany, Singapore, Brazil, and Spain. Citi Ventures has also made 42 investments in 33 companies to date. Since 2009, Citi has invested over $1.2 billion through this program.
2. Goldman Sachs
Goldman Sachs has become a tech-investing powerhouse in recent years. The investment bank is known for being the first to invest in cryptocurrency. To date, they have invested in 15 unicorns (a startup valued at $1 billion or more), most notably, Square. Additionally, they have invested more than $800 million since 2008.
3. J.P. Morgan
J.P. Morgan has recently devoted $30 million as a five-year initiative to its Financial Solutions Lab (FinLab) managed by the Centre for Financial Services Innovation. This lab is dedicated to hosting tech events which tests innovations centered on improving the financial health of Americans. Most recently, the FinLab announced the 9 winners of its $3 million Fintech competition hosted in June. Each year, J.P. Morgan invests an estimated $3 billion in technology with a large portion of that funding going towards Fintechs.
Now, let's see the 3 largest Fintech acquisitions of all time:
1. FIS Acquires SunGard – $9.1 Billion
FIS, a global solutions provider for banking and payments technology, completed its acquisition of SunGard on November 30th, 2015. As a leader in financial software and technology services, SunGard complements FIS by allowing them to offer a broader range of enterprise banking and capital markets functionalities for its clients. Together, these two companies will have projected annual revenues of $9.2 billion.
2. Vista Equity Partners Acquires Solera – $6.5 Billion
On March 3rd, 2016, Vista Equity Partners closed their buyout of Solera –a leading provider of risk and asset management solutions for the automotive and property marketplace– for $6.5 billion. With this acquisition, Vista is able to combine its operational and financial expertise with Solera's risk management technology.
3. Global Payments Acquires Heartland Payment Systems – $4.3 Billion
To expand its distribution within the U.S., Global Payments –a leading global provider of payment technology services– acquired Heartland Payment Systems, the largest payment company in the U.S., on December 15, 2015. This $4.3 billion deal allows the two companies to accelerate their revenue growth to an expected $3.0 billion of adjusted net revenue and $1.0 billion of EBITDA annually.
We hoped you learned something new from this article and if you would like to learn more about Fintech, be sure to subscribe to our newsletter!
Sources:
•http://berkerynoyes.com/publication/trends/2015FY/fintech.aspx
•http://www.visualcapitalist.com/summing-10-biggest-fintech-deals-2015/
•http://www.banktech.com/management-strategies/banks-win-bigger-when-they-acquire-tech-companies/a/d-id/1315947
•https://index.co/market/fintech/acquisitions
•https://www.techinasia.com/talk/fintech-industry-outlook-2016-infographic
•http://www.citi.com/ventures/accelerate.html
•https://www.crunchbase.com/organization/citi-ventures#/entity
•https://www.cbinsights.com/blog/major-banks-fin-tech-startup-investment-trends/
•https://www.jpmorgan.com/country/CA/en/press/inresidence
•https://www.cbinsights.com/blog/jp-morgan-fin-tech-startups/
•http://finance.yahoo.com/news/fis-completes-acquisition-sungard-145500302.html
•http://www.bizjournals.com/austin/blog/techflash/2016/03/vista-equity-completes-6-5b-buyout-of-software.html
•http://www.businesswire.com/news/home/20151215006816/en/Global-Payments-Acquire-Heartland-Payment-Systems-4.3
•http://dealbook.nytimes.com/2014/02/20/bbva-buys-banking-start-up-simple-for-117-million/?_r=0