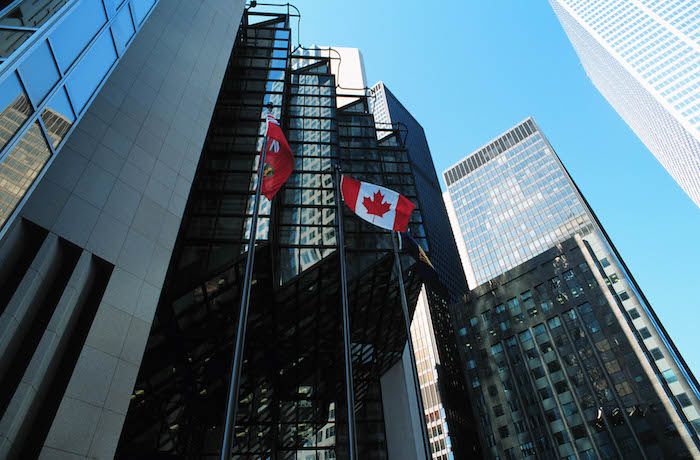 Spreads on Canadian bank debt were modestly wider after Moody's lowered the long-term debt and deposit ratings one level on the Big Six banks, yet analysts have not seen any evidence of credit deterioration with any of the banks.
---
Source: Wealth Professional
Canada's dollar and bank bonds declined after Moody's Investors Service downgraded the nation's banks for the first time in more than four years, signalling that soaring household debt combined with runaway housing prices leave the lenders more vulnerable to losses.
Spreads on Canadian bank debt were modestly wider after the ratings firm lowered the long-term debt and deposit ratings one level on Toronto-Dominion Bank, Bank of Montreal, Bank of Nova Scotia, Canadian Imperial Bank of Commerce, National Bank of Canada and Royal Bank of Canada Wednesday.
Deposit notes were expected to open 3 basis points to 5 basis points wider and non-viability contingent capital bonds were expected to begin trading 5 basis points to 8 basis points wider, Mark Wisniewski, a credit hedge-fund manager for Sprott Asset Management LP, said by phone from Toronto.
The Canadian dollar weakened 0.8 percent to 1.3757 per U.S. dollar at 8:36 a.m. in Toronto, extending its loss this year to 2.3 percent, the worst performance among Group-of-10 peers. An index of Canadian bank shares fell 0.5 percent.
"It's never a good thing when there's a wide-scale downgrade within a country," said Andrew Torres, founding partner and chief investment officer at Toronto-based Lawrence Park Asset Management. "Even though you can't ignore the move Moody's made overnight, I don't think it's the sign of an impending banking crisis in Canada."
The downgrade of the Canadian banks follows a recent run on deposits at alternative mortgage lender Home Capital Group Inc. that has sparked concern over a broader slowdown in the nation's real estate market as Canadians are taking on higher levels of household debt. The firm's struggles have taken a toll on Canada's biggest financial institutions, which have seen stocks slide on concern about contagion.
Untested Strength
In its statement, Moody's pointed to ballooning private-sector debt that amounted to 185 percent of Canada's gross domestic product at the end of last year. House prices have climbed despite efforts by policy makers to cool the market, it said Wednesday. Prices in Toronto and Vancouver have soared on the backs of strong economies, limited supply and foreign demand that's sparking some speculative buying in the two markets. Toronto prices jumped 25 percent in April from the year earlier.
"Expanding levels of private-sector debt could weaken asset quality in the future," David Beattie, a Moody's senior vice president, said in the statement. "Continued growth in Canadian consumer debt and elevated housing prices leaves consumers, and Canadian banks, more vulnerable to downside risks facing the Canadian economy than in the past."
Home prices in Toronto and the surrounding cities are gaining at a 30 percent annual pace, prompting provincial leaders to impose a foreign buyers tax and other measures last month to cool what they called dangerous speculation.
Canadian household debt climbed to a record relative to disposable income in the fourth quarter, another sign of strain from a long housing boom. Credit-market debt such as mortgages increased to 167.3 percent of after-tax income in the October-to-December period from 166.8 percent in the prior three months. Still, Canada's consumer confidence is at the highest since at least 2009.
The news is "modestly negative" for spreads of bank bonds, according to Kris Somers, a credit analyst at BMO Capital Markets.
"We have not seen any evidence of credit deterioration with any of the banks," Somers wrote in a report Thursday. "While we acknowledge that consumer leverage levels are increasing, we note that under a low-rate environment with stable employment, we see no catalysts for adverse shocks."