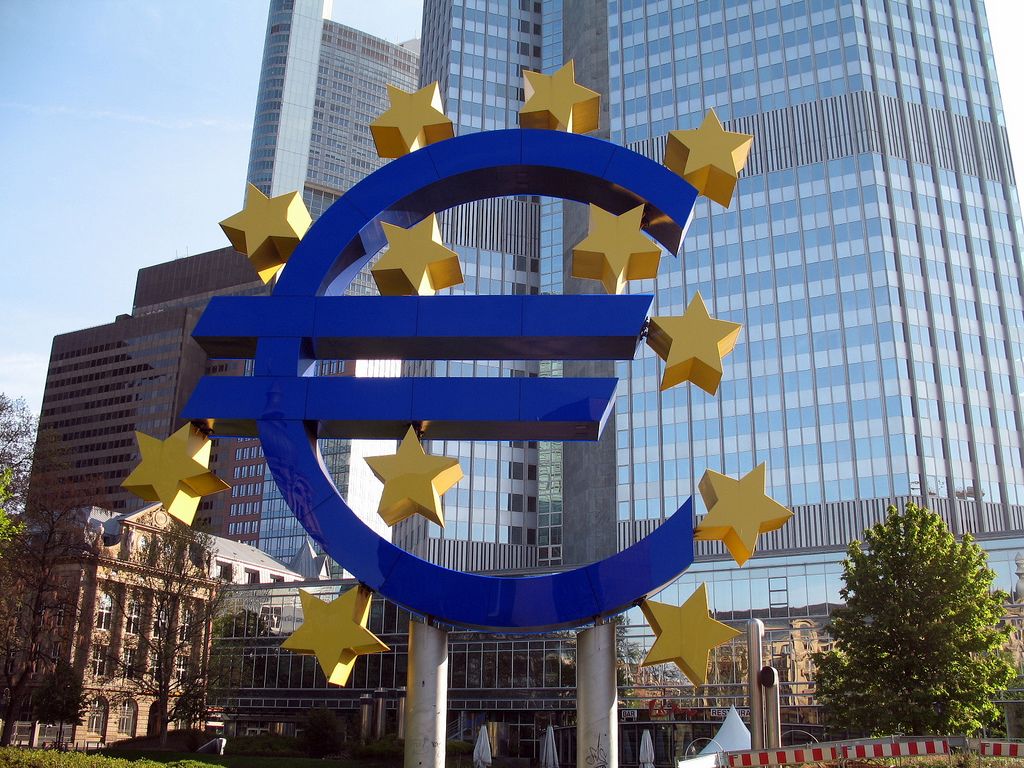 Oxford Economics calculations suggests steady balance sheet from ECB will keep bond yields down
---
Source: Bloomberg Markets
As the European Central Bank brainstorms scenarios for winding down its 2.3 trillion-euro ($2.8 trillion) asset-purchase program, there is what may sound like a chicken-and-egg problem to solve.
It goes as follows: when the central bank buys bonds and its balance sheet grows, is it the former or the latter that gives policy makers more bang for their buck? And what happens when the balance sheet stops growing and the ECB just continues reinvesting income from maturing bonds as it has pledged to do? Will the stimulus continue to work?
Marion Amiot, a senior eurozone economist at Oxford Economics, decided to investigate. She calculated the impact that a 20 billion-euro reduction in the flow of purchases would have on German bond yields and compared her results with an equivalent decline in central bank's assets. The same experiment was repeated to measure the effect the cutback would have on the exchange rate.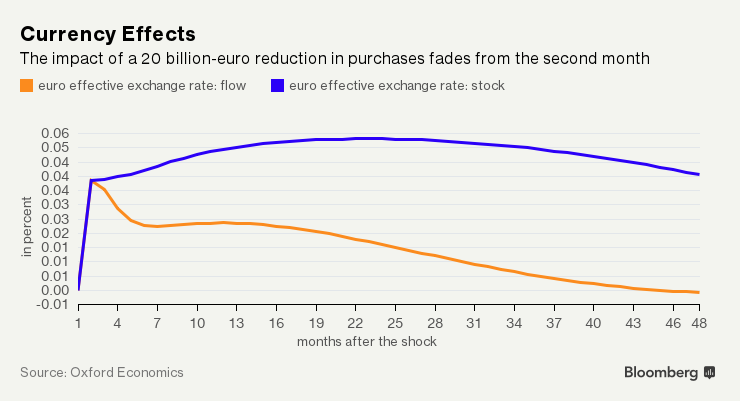 What she found is that a reduction in monthly purchases of this magnitude would lift yields by 0.2 of a basis point within five months and boost the euro by 0.04 percent within two months. Not much and the effect would largely fade afterwards anyway.
In the case of a reduction in the stock of purchases, the immediate impact would be similar. But it would grow over time, lifting German bond yields by 0.2 basis-point within 2 years and strengthen the euro by 0.05% within nine months.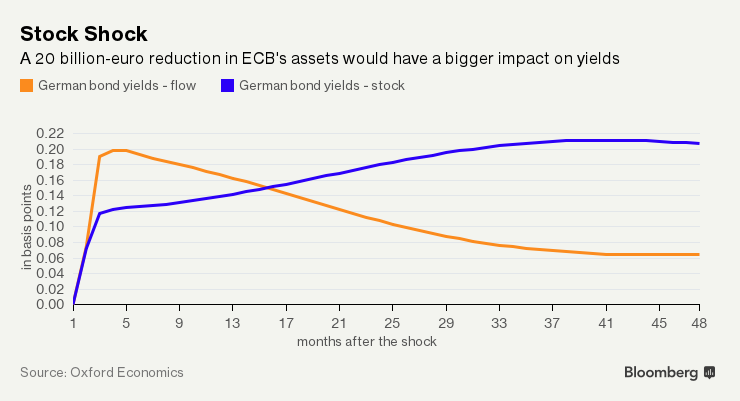 That leads Amiot to conclude that "the stock effect is more persistent than the flow effect," she writes in her report, and "as long as market participants expect the central bank to continue to hold assets on its balance sheet and maintain bond scarcity, the ECB's stock of assets will continue to weigh on bund yields and the euro."
To put things into perspective, the total stock effect of the ECB's 2.3 trillion-euro program has been to depress bond yields by 30-40 basis points and the exchange rate by 7-10 percent, according to Amiot's calculation. However, it has varied across member states with the so-called periphery countries of the euro area being the biggest beneficiaries of the program.
The start of a gradual reduction in purchases from the beginning of next year is now seen as a given after Draghi said the economic outlook has improved. Even then, the ECB is considering softening the blow by emphasizing the impact of the reinvestment of maturing debt. That will average 15 billion euros a month in 2018, according to euro-area central bank officials familiar with the matter.
So the bottom line is that "with the ECB unlikely to shrink its balance sheet before 2025, there's unlikely to be much upside for bond yields until then," concludes Amiot.